Purifyers Climspray™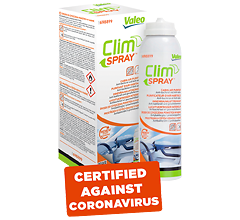 Use Valeo ClimSpray ™ to disinfect and purify the cabin of your car! This protects you against viruses (including Coronavirus), bacteria and fungi.
 
Its efficiency is proven and has been certified by an independent laboratory in May 2020.
The double action of Valeo cabin purifier ClimSpray™ begins by attacking the roots of the infectious microorganism proliferation and then diffuses a pleasant fragrance in the car. ClimSpray™ is compliant with virucide, bactericide and fungicide norms: EN 14476+A2 (proving efficiency against Coronavirus) EN1040, EN1275, EN1650, EN1276 and EN13697. It is quick, efficient and practical. 15 minutes of automatic operation is all that is required to purify your cabin. No tools are needed. It is very easy to use.
 
ClimSpray™ can be used yearly as part of the full air quality cleaning process (with ClimFilter™ replacement and use of ClimPur™) or more frequently depending on the usage of the car and individual needs. ClimSpray™ is safe to use inside the car and is harmless to plastic and rubber material.
Part Number: 698899