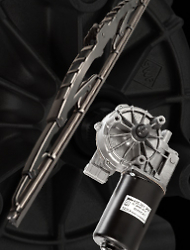 Truck Wiper Blades and Wiper Motors
Valeo Wipers for Trucks
Valeo, one of the leading manufacturers of wiper systems original equipment, brings a complete range of wiper blades and wiper motors to the aftermarket for heavy-duty truck applications.
Valeo offers a comprehensive range of front and rear wiper blades through various brands, including Valeo and SWF. These wipers are designed to be attractive, efficient, and easily adapt to all vehicle types according to the market and the country. 
SWF Wipers for Trucks
As a major player in heavy-duty wiper systems, SWF studies the road conditions that drivers of heavy-duty vehicles encounter on a regular basis. SWF develops wiping equipment to cope with all weather hazards while preserving maximum visibility.
The SWF wiper range for trucks is the most complete range for professionals because these wipers equip 95% of trucks in Europe. SWF windshield wipers use 100% metal technology and high-quality rivets, ensuring excellent durability. 
Rubber wiper blades ensure optimal, reliable, and durable wiping performance in all driving conditions. All SWF truck wipers are equipped with the original adapters for quick and easy mounting. The SWF range integrates several technologies to cover different needs, including conventional and flat wiper blades.
Valeo Quality and Innovation
Valeo supplies windshield wipers for trucks to both the Independent aftermarket and the OE market. Valeo maintains its lead through style and innovative technologies originating from OE technology.
Valeo collaborates closely with vehicle manufacturers on future wiping technologies to develop innovations such as improved aerodynamics, reduced noise and designs which blend flawlessly with the vehicle's styling.